New Zealand Travel for Lord of the Rings Fans
by Tyellas
Updated December 2014!
As a Tolkien lover and LOTR film fan living in New Zealand, I often think of this old joke. "It's like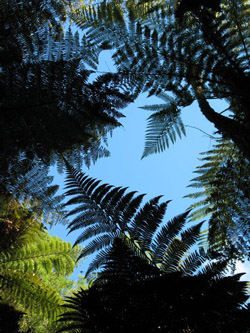 working in a candy store. You get used to it after the first day. But, oh, that first day!" When fandom friends and acquaintances visit New Zealand, I love it, and I get to enjoy the excitement and pleasure of their first day in the LOTR candy store.
After a modest amount of experience with these visitors, I've put together some notes for other LOTR fans who want to get the best out of a trip to New Zealand. I focus on general long-distance travel guidelines, and notes about the three largest cities, Auckland, Christchurch, and particularly Wellington. Please note that any recommendations are just that – my opinions as an individual not operating for profit or receiving any benefits from these businesses. Sometimes I've partaken, sometimes I've heard good things from others. Some of my recommendations are based on my personal belief that independent and/or fan-friendly businesses are a Good Thing.
Essential Information
First and foremost, equip yourself with the Lord of the Rings Locations Guide Book by Ian Brodie. This is your comprehensive, all-knowing guide, the Galadriel of guide books, and I'm not going to repeat what it says.
If you are not a New Zealander and wish to participate in The Hobbit film in any way, please, please, oh please read this article by Kristin Thompson first: Reminding Aspiring Hobbit Extras Of The Harsh Realities. Also, don't even think about trying to get near Hobbit filming locations. Ms. Thompson is 100% correct about all of this. My best suggestion is that you just come for a visit, either during a special event (see the end of this article for some ideas about that) or for one of the hopefully-to-be-held Hobbit premieres in Wellington in 2011/2012.
When to Visit New Zealand
The best time of the year to visit New Zealand combines two positive things: pleasant New Zealand weather matched with non-peak-season plane fares. To get this, I recommend visiting NZ during March-April or October-November. December through February is peak season for travel to NZ, and plane tickets can cost twice as much. Winter here, between May and August, is cold in an annoying way – rarely below freezing, but wet, windy, and in badly-insulated buildings. Any Hobbit premieres are likely to be held during peak season for plane fares, just so you know.
If you visit NZ over Easter, be aware that the country shuts down in a serious way on Good Friday and Easter Sunday. So many businesses close that it can be hard to find activities to do or open restaurants. If a place is open, they may have a 15% extra charge, to cover the extra labor costs of being open on a holiday.
There are two places guaranteed to be open in NZ 365 days a year: Te Papa Museum in Wellington, and Kentucky Fried Chicken.
Tours Versus Independent Travel
If you are a passionate fan visiting from outside NZ, a tour, whether a day trip or a longer one, can be
very worthwhile. Not only do you get direct location visits with people who were involved in LOTR filming, you get to experience them in the company of other people as excited as you are to be there. If you want a deeply comprehensive 12-day tour, the fan-enterprenuer owned Red Carpet Tours is definitely the way to go. If you want a half-day or one-day location tour in Wellington, there are lots of operators offering these. I recommend the reliable, fan-friendly Flat Earth Tours. Ask for guide Jack – he's a fan of both the LOTR movies and of Tolkien's writing.
Are you usually an "independent" traveler? Then you probably already have Ian Brodie's book and are plotting your own itinerary. Seeking out-of-the way "untouched by tourism" hamlets? That doesn't work so well in NZ, where small towns are seriously small. Rent a car and drive yourself/your fellow travelers around, but focus on the main centers. If you want a different, fresh NZ visiting experience, how about Gisborne, on the East Coast of the North Island? Gisborne is a reasonably large town, but current tourism trends here make it a destination off the beaten path. It's got great beaches and seafood and is a center of Maori culture for Maori people themselves, not Maori culture packaged for tourists. And, if you're a film buff, you can visit the Whale Rider film location, Whangara, from there. Now, back to our scheduled LOTR visitor stuff.
What To Pack for NZ
If you are visiting in winter, pack for winter in Seattle or Dublin. Bring waterproof outerwear, fleece or wool sweaters, warm pajamas, and a bathrobe.
If you are visiting in any other season, pack for San Francisco – think active layers.
New Zealand style is casual, fashion-forward, and well groomed. Quality outdoors clothes, including sneakers/trainers/other walking shoes, are fine for most venues.
Kiwis aren't much into leather jackets, due to the rain. They wear a variety of fabric jackets or "hoodies" instead.
Try to pack sensibly: clothes in New Zealand are rather expensive.
Long Haul Flights and Jet Lag
Some folks are intimidated by the idea of a 12-hour to 24-hour plane journey. Fear not! You can survive the 12-hour flight in Economy class. You can even survive two of them in succession if you're coming from Europe. To turn yourself into a Dunadan of the airways, I recommend:
A Zen-like acceptance of mild boredom and discomfort, a philosophy of Just Dealing. Long distance plane travel is uncomfortable; remember that it is also a privilege.
Flying Air New Zealand (lots of movie choices, soothing blue cabins, decent food) or Emirates
Getting your seat assigned well in advance
Bringing:
Sleep aids: an eye mask, sleeping pills, and an inflatable neck pillow
Entertainment: a well-stocked iPod, a very large absorbing book you've been meaning to read
A snack or two that is NOT FRESH FRUIT. If you forget you have fruit in your bag and you get caught at NZ customs it's a $200 fine.
For the sake of your dignity as a traveler, please don't wear pajamas on the plane.
Jet lag sucks. You will survive it. To help yourself do this, don't expect to be able to do much on your first day. Instead, try to adapt to local sleeping schedules – stay up instead of taking naps. Melatonin does help (and is hard to get in NZ, so bring it with you). If you're struggling to stay awake, eat something with protein. NZ was also one of the first markets to catch on to "energy drinks", so there are plenty of local energy drink brands for both new taste sensations and ways to stay awake.
Transport
As a visitor to NZ, there are four ways to get around: plane, bus, train, or renting a car.
Hopping by plane between the major centers, Auckland, Wellington, and Christchurch, reminds you of why Sauron decided Fell Beasts were a good idea. Plane travel will save you time and, with intelligent ticket buying, not be madly expensive. In Wellington and Christchurch, the airport is very close to the main city, and shuttles/special airport buses are inexpensive ($15 - $20 NZD). Auckland airport is 45 minutes from downtown and wildly inconvent.
The train is the travel equivalent of hobbits on foot: slower than you'd expect, but with excellent views and traveler-focused stopovers. The Overlander takes 12 hours to go between Auckland and Wellington and provides stunning views of central Mt. Ruapehu.
There are lots of tourist bus options, but most of these are for the young and eager to party. More mature or introverted travelers may find the popular "Magic Bus" is instead the "Tragic Bus". NZ's standard intercity bus service will certainly provide you with an unforgettable travel experience, but "unforgettable" can mean a lot of things. Like Merry and Pippin's trip with the Uruk-Hai, it'll get you there fast, but you probably want a quieter option.
If you feel brave, channel your inner Rider of Rohan and bring your driver's license. Car and "campervan" rentals are affordable, and GPS modules take the pain out of trying to find directions. It's easy to keep track of the "side of the road" when everyone else is driving the direction you're supposed to. Most North Island roads are reasonable for people with average levels of driving skill. (An exception to this is the mountain-edge Rimutaka Pass near Wellington.) South Island roads are more challenging, especially on the West Coast. If you aren't an enthusiastic driver in the first place you may want to switch over to trains/buses after visiting Nelson, where you benefit from having a car.
Travelers used to North America and Europe may expect to drive for 4 hours in NZ and be able to stop on the way for refreshments/rest stops. However, in NZ, there are long stretches of highway, especially through national parks, where there is NOTHING of this sort. A good indicator of this is that if you see nothing on the map then there is nothing there. So, fill your gas tanks, use the restroom, and bring drinks/snacks. And make sure your camera has fresh batteries and room for more pictures.
The most challenging drive most LOTR visitors to New Zealand will make is from Auckland to Matamata. The roads aren't difficult, but driving through the city of Hamilton is, and takes a lot of time. (Nothing personal, Hamilton!) For the fastest route from Auckland to Matamata, I recommend:
Take State Highway #1 out of Auckland, heading South.
About 20 – 30 minutes south of Auckland, take the left turn onto State Highway #2, towards the Coromandel.
Drive to Mangatarata and turn right onto Route 27.
Route 27 takes you directly to Matamata. And you've avoided Hamilton.
It's an alternative route, but I promise: no Balrogs.
Auckland
Auckland is an inevitable introduction to New Zealand for most international travelers, since most international flights only disembark at Auckland International Airport. But it is short on LOTR activities and attractions. For the serious LOTR/film buff traveler, I recommend spending 2 days there, at the most. It's a good place to recover from jet lag.
Try to get out of downtown to Devonport or the Waitakere Ranges – Piha beach, where lots of fantasy TV and film work was done, is about 45 minutes from Auckland. If you go out there, stop at the village of Titirangi for brunch/lunch, or to grab picnic food at the small, nice grocery store or T&T's fried chicken takeout stand, since Piha has very few businesses of any kind.
Matamata/Hobbiton
Matamata town has become a must-visit for any LOTR tourist. The Hobbiton attraction isn't cheap, but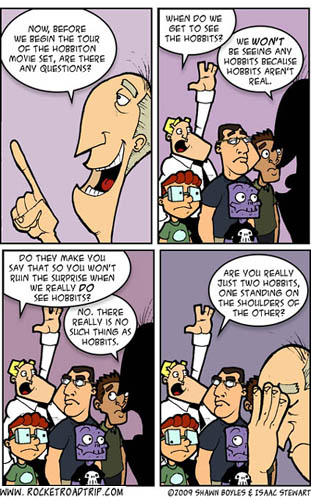 the tour is well worth it. Matamata's visitor's center starts the hobbity fun right away. Also, you can't drive by Hobbiton and get a glimpse of it from the road – the Hobbiton site was originally chosen exactly because it was far from things like roads and power lines.
Matamata itself, formerly a sleepy horse-and-dairy farm service center, has changed since the whole LOTR tourism phenomenon hit. There has been lots of restaurant and pub gentrification, which is great, but means it's difficult to find a cheap place to eat. If you're on a budget, Matamata is a good place to try an old-school local bakery/café.
Christchurch
Once, Christchurch was a small city with a small city's charms. Now, Christchurch is an edgy post-quake zone dotted with stores in shipping containers, seriously short on lodging and amenities, especially for travelers without cars. The main draw for an LOTR traveler is that Christchurch is the staging point for full-day tours of some more remote South Island LOTR film locations, with the main stop being the Edoras location. Arrange your tour and lodging well in advance - you no longer have the luxury of wandering around a pleasant downtown to choose these.
Wellington Area Notes
Wellington is the Star of Earendil for LOTR fans in New Zealand. It's where the LOTR films were made, and Peter Jackson's studios and many of the LOTR set locations and artisans are in the area. It's good to plan for 3 to 4 days in Wellington, if you're a LOTR fan or film buff, and I've got some detailed tips for you.
Wellington Film Attractions
It costs nothing to visit the marvelous Weta Cave, or to see the sculptures by Weta scattered around downtown. If there isn't anything showing, it's fun to go into the Embassy Theatre, where the LOTR film premieres were held, and look at the actor-sponsored seats and the gorgeous Edwardian-styled bathrooms. In Mount Victoria Park, there are hiking trails that were the sites for some LOTR scenes, especially the Frodo-and-the-Nazgul scene. The only cost to go there is in the calories you'll burn walking up the very steep hills.
The Roxy Cinema in Miramar is a restored Art Deco theater lavished by the Weta artists with magnificent features, including a steampunk-ceilinged second floor and a bronze Gollum statue. The Coco at the Roxy has great food. Recommended all around and a great stop to combine with a visit to the Weta Cave, a shop and place-with-lots-of-statues, also in Miramar. The Weta Cave has recently expanded with workshop tours of a mini-musuem (minimum $24 NZD) packed with LoTR and Hobbit props and peeks at working artisans.
I've already mentioned Flat Earth Tours. If you're in Wellington without a car, they are a great way to see lots of locations, with lots of film-related backstory. And you can visit the LOTR film horses in a town an hour away from Wellington, Otaki – not cheap, but very in-depth, run by wonderful people.
Wellington Lodging
If you don't have a car, you really want to stay in downtown Wellington. "Close", such as Thorndon, doesn't count. Wellington is renowned for thoroughly mediocre backpacker lodging. I recommend either Base Backpackers (near the LOTR filming sites in Mt. Victoria Park), the YMCA, or upscaling to one of the many budget hotels in town, such as the the Comfort Hotel with its unbeatable Cuba Street location. Lots of Airbnb options have blossomed over the past year, too.
If you do have a car, or need to be near the airport, check out the Brentwood Hotel in Kilbirnie - reasonable rates, and so close to Miramar that it's where lots of film-making talent stays when they're in town. A downtown budget hotel with decent parking is the Mercure Willis Street.
If you have actual money, the Book Lovers B&B is another recommended option because, you know, books. It also has a very good location, convenient again to the LOTR walking tracks in Mt. Victoria Park.
If you have a tight budget, Couchsurfing is alive and well in Wellington. However, you need to use your very best couchsurfer's etiquette, because surfing hosts in this traveler's town experience some hosting fatigue. Find your couch well in advance of your stay, arrange for your own transportation, and ask in advance if your host's dwelling involves many hillside staircases (some Wellington residences have truly alarming stairways for access.)
Wellington Restaurants
You can eat where the LOTR stars were eating…a decade and a half ago…has it been that long? It has, and it says something about all the once-favorite eateries that they're mostly still flourishing.
The Green Parrot – Men go berserk for this modest old-school Kiwi steakhouse.
Molly Malone's – Eat upstairs at this Irish bar.
Matterhorn – Dark, chic, cutting-edge cocktails and cuisine. Gets very crowded and noisy at night – they also do brunch, which is very good.
The vaunted Chocolate Fish Café closed in 2008. A new café, Scorch-O-Rama, has opened in its old location. Another café operated by the former Chocolate Fish team is nearby in Miramar, the Chocolate Frog. In October 2009 the Chocolate Fish crew are opening a summer cafe in an area called Shelly Bay, producing very informal beach food, but this has no LOTR connections whatsoever.
I have heard of folks with

Hobbit

film involvement eating at Floriditas on Cuba Street, Deluxe Espresso Bar, and Cafe Polo in Miramar. All three are great in their own right.
You may be wondering "Where do people who work for Peter Jackson go for lunch?" The answer is: they eat in the depths of Weta, which has in-house catering three meals a day. So, you don't often see Weta people out and about much in the area where Weta is based, the suburb of Miramar.
Wellington Stores That Have LOTR Related Items
For LOTR souvenirs, your main stop, in all of NZ, should be the Weta Cave. Take your money here

first

– they have the best prices on Weta-made items, and unique items like books signed by Alan Lee.
Peter Campbell Engraver in Petone – they did much of the engraving for the LOTR jewelry and stock it all in store.
Outside Wellington, in the pleasant Petone neighborhood, is Stansborough, who wove the famous "Fellowship" cloaks and has a range of items based on them. They've downsized but they are now easier to get to. Limited opening hours (Tuesday-Thursday, 9:30 to 3) but call if you are dying to spend money there.
Mirek Smisek, the potter who provided ceramics for LOTR, and his extremely talented partner Pamela Annsouth, can be visited at their home/studio/gallery in Waikanae, north of Wellington.
Te Papa has two good museum stores, but many items – especially LOTR items - have a high markup compared to buying them at Stansborough or the Weta Cave.
A Proposed Three-Day Wellington Itinerary
Here is a proposed three-day Wellington itinerary for a dedicated LOTR fan visiting Wellington, who has a rental car.
Day 1 – Downtown Wellington. AM: Weta Cave/Weta Workshop/rubbernecking at Weta sites in the Miramar suburb of Wellington. Maybe coffee at The Roxy. PM: Mount Victoria LOTR filming sites and downtown Wellington. Recommended lunch stop: Somewhere in Miramar.
Day 2 – Hutt Valley, east of Wellington. Drive to the suburb of Petone, grab a bite and maybe check out Peter Campbell Engravers and Stansborough, and then drive up to the Harcourt Park (Isengard)/Kaitoke (Rivendell)/Anduin River locations. Bring your Ian Brodie guide to find these! Recommended lunch stop: Check out the many options for all budgets on Jackson Street in Petone. There are very few food options directly off State Highway 2, the road that you'll take from Petone to Harcourt Park/Kaitoke. The Rivendell area at Kaitoke has picnic tables.
Day 3 – Kapiti Coast, north of Wellington. Drive up the Kapiti Coast north of Wellington. Visit the LOTR potter Mirek Smisek, the LOTR Horses in Otaki, and other local attractions. Peek at Pukerua Bay, the village where Peter Jackson grew up. Recommended lunch stop: The town of Paraparaumu – either down at the line of restaurants/stores near the beach or at the Mediterranean Food Warehouse right on the main highway. It's also nice to take a walk on Paraparaumu beach.
Wellington Events and Other Social Notes
Two regular annual events in Wellington are of interest to people who'd like to have arts experiences that overlap with Weta Digital:

The Armageddon Expo is a big media sci-fi event, held in Wellington in April or May. For some guaranteed Weta stardust and celebrity sightings, when the people will be happy to see you and talk to you, the best thing you can do is to come during one of the Armageddon events – high-level Weta people and actors often appear. This event usually has Weta involvement in its Auckland and Wellington incarnations. It's loud and shouty, and attendees don't tend to wear garb/costumes outside of the masquerade.
The World of Wearable Art event in September is tremendous and worth seeing for costume and design fans. People involved in it often go on to work for Weta, and people who work for Weta often enter.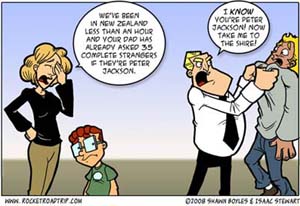 In Wellington, the locals have, traditionally, been cool and sanguine to the presence of LOTR/Hobbit stars and Peter Jackson in our midst. There's a certain Wellington pride to this. Even now, friends of mine will tell me about some film-making luminary that they have seen out and about, always adding, "And everyone in the restaurant was doing an amazing job of pretending to ignore them!" A cultural aspect contributing to this is that NZ is not, overall, a very "fannish" country. If you are fortunate enough to encounter someone famous, or have their abode pointed out to you, take a cue from the locals and be courteous. Show reasonable interest without being a stalker, "staking out," or always snapping away with your camera.
The biggest, most painful faux pas of all is to foist your resume/CV on a hapless Weta employee, or someone you've met at a signing, or at an event like Armageddon. If you do that, you'll never work in Wellywood. Just send it through regular channels – you'll have an average chance, but that's far better than making a bad impression.
New Zealand makes accommodations for vegetarians but is not tremendously vegetarian-friendly, especially outside the main urban centers. Being vegan, especially as a traveler, is very difficult outside the main urban centers. Kosher friends have also commented on the frequent presence of ham/bacon in food. That said, NZ is exceptionally accommodating of those who need gluten-free food.
A last tidbit: I have heard of some former LOTR/Hobbit extras using their history to try and pick up women visiting from out of town. That had amusement value in 2002, but those Two Towers cast and crew t-shirts are tired and tattered now. Instead, keep your eyes open for people wearing Avatar film crew shirts, since these are the folks who will probably worked on The Hobbit.
Bon voyage!